Durr ScanX Computed Radiography System
Durr NDT ScanX Computed Radiography System
The Workhorse of Portable Digital Radiography in NDT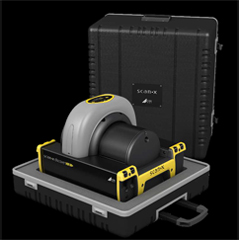 There are 2 models available:
ScanX Discover HR

ScanX Discover HC

ScanX Discover HR

The ScanX Discover HR has been certified by BAM as having the highest resolution in the NDT industry with 30 microns per pixel Basic Spatial Resolution. It easily addresses and exceeds the most critical requirements of the Military/Aerospace, Space Hardware and Nuclear markets by producing the highest image resolution.
ScanX Discover HC


The ScanX Discover HC has the features, image quality and versatility to meet the most demanding needs. Its high contrast and adjustable scanner parameters make it ideal for isotope and X-ray applications, providing the image quality you need.

Acceptance
Perfect image quality - film like or better


Cost Effective


Significant reduction in consumables


Experience
Technology proven in thousands of units

Crystal Clear


Precise laser spot for optimum image quality


Few Moving Parts


Reliable - minimal maintenance required

Developed to withstand the wear and tear of industrial radiography and weighing just 46 lbs. (21 kg), the ScanX Discover models offer a mobile and extremely rugged solution for demanding NDT environments. The system operates flawlessly even in dirty, damp, hot or cold conditions. Oscillation-damping rubber pads isolate the optical system from vibrations and ensures optimum image quality. A lightweight, extruded aluminum frame protects the scanner from damage. The optional Li-Ion battery pack can power the scanner during scanner, making it independent of a power supply.
Whether used in the field, in a factory setting or in a lab, ScanX Discover delivers outstanding digital images from inspections in just a few seconds. The images have a consistent quality so that results are constantly repeatable time after time, meaning critical decisions can be taken in real time.
The ScanX Discover System is easy-to-use and has intuitive handling. An image is created in 3 steps: Expose the imaging plate, scan it and view it with ScanX View Software. The reusable imaging plates can be used with X-ray or gamma radiation sources and record the image information. By scanning the imaging plate, a digital image is produced on a computer within a few seconds. At the same time, the imaging plate is erased, making it ready for the next exposure.
Features and Benefits:
Smooth imaging plate transport

Scans imaging plates up to 14" (35 cm) wide and any practical length, including custom shapes and sizes

The flexible imaging plates conform to the shape of the object

Guides for extra-long imaging plates

Works for X-ray and gamma sources including Selenium-75, Iridium-192 and Cobalt-60.

Depending on use, imaging plates are reusable hundreds of times

Simultaneous scanning of multiple image plates is possible

Adjustable settings for optimal dynamic range

Automatic and manual erase functions

No darkroom needed

Neither film nor chemicals are needed, saving on maintenance of developing equipment, film storage and disposal

Easy to transport in the carrying case

Supports the latest industrial standards

30-micron SRb certified by BAM (ScanX Discover HR)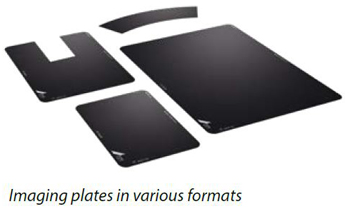 ScanX View Software
All functions are covered from image capture, analysis and report generation through to export and archiving with database management.
Advantages of ScanX View:
Saves time and money when you transfer your data electronically to consultant experts or customers

Continuous development of image reviewing tools for all modes

Compliance with DICONDE standard ensures the original images will remain accessible over time and the image data is compatible with all conformant systems.

Can be learned quickly and easily

Wall thickness measurement


This tool makes it possible to measure the thickness of pipe walls and to issue a warning when less than the minimum thickness is detected.


SRb determination
The basic spatial resolution (SRb) can be determined very quickly and extremely accurately with this automatic measuring tool.



Calibration
Image calibration is precisely and quickly performed using a reference object. Further measurements in the image are based on this calibration.

Report
The report function contains information about the image, its origin and all measurements.

Specifications:
| | |
| --- | --- |
| Laser Point Spot: | 14µm (ScanX Discover HR) / 50µm (ScanX Discover HC) |
| Grey Level Resolution: | 16 bit, 65,536 grey levels |
| Dimensions: | 15.5" x 18" x 14" (39.4 x 45.7 x 35.6 cm) |
| Weight: | 44 lbs. (20 kg) - with battery: 46 lbs. (21 kg) |
| Power Supply: | 110 - 240 VAC, 50 - 60 Hz |
| Laser Classification: | Class 1 Laser Product. Compliance with FDA HHS 21 CFR 1040.10 and IEC 60825-1 |
| Imaging Plates: | Phosphor Imaging Plates |
| Temperature Range: | 20°F - 115°F (-7°C - 46°C) |
| Humidity: | 5 - 95% (non-condensing) |
| Software: | ScanX View |
| Battery (optional): | 24 VDC |
| PC Connection: | USB |
| Accessories: | Hard Case, Soft Case, Imaging Plates, Plate Protectors, Cassettes |
Request a quote
Download Spec Sheet