Eddycon C Portable eddy current flaw detector
The EDDYCON C is a flagship in our eddy current instrument family. It is portable and combines the best features of earlier predecessors, being furnished with 4.3" display and functional buttons for immediate access to any menu of the instrument, which would meet requirements of the most demanding user.
The EDDYCON C eddy current flaw detector is intended for:
Detection of surface cracks in various parts.
Finding of cracks in holes and multi-layered structures with the help of rotary scanners.
Recognition of sub-surface flaws in non-magnetic conductive materials.
Evaluation of non-magnetic material conductivity and paint coating thickness.
Eddy current welding quality inspection.
These devices allow to perform full eddy current testing of aircraft parts in accordance with the requirements of the regulations AIRBUS A318 / A319 / A320 / A321 NONDESTRUCTIVE TESTING MANUAL NTM, BOEING 737 NON-DESTRUCTIVE TEST MANUAL.
Eddycon C benefits:
Easy-to-operate due to user-friendly intuitive interface.
Light and sound alarms.
Strict compliance with ISO 15548.
Tune-out from the influence of working gap and inhomogeneity of electromagnetic properties.
Saving over 1000 settings and test results to the flaw detector memory.
Data communication to PC via USB flash drive or Ethernet.
Specialty software for viewing test results and printing out test reports.
Application-dependent software for real-time data displaying on a PC.
Software upgrade using USB flash drives.
Evaluation of flaw depth.
Review of saved defectograms on the display of eddy current flaw detector.
Possibility to connect a temperature sensor and remote 'Balance' button (option).
Quick-release Li-Ion battery for continuous 7-hour operation.
Lightweight – up to 2 lbs (0.9 kg).
Portability and lightweight
Due to the small size of the eddy current flaw detector, an operator can set it up with one hand only. The device is furnished with a side strap that allows to hold the flaw detector firmly either in right or left hand, while its narrowness helps to easily reach any button on the keypad. Thanks to its light weight, an operator can perform eddy current testing for a long period of time without getting tired.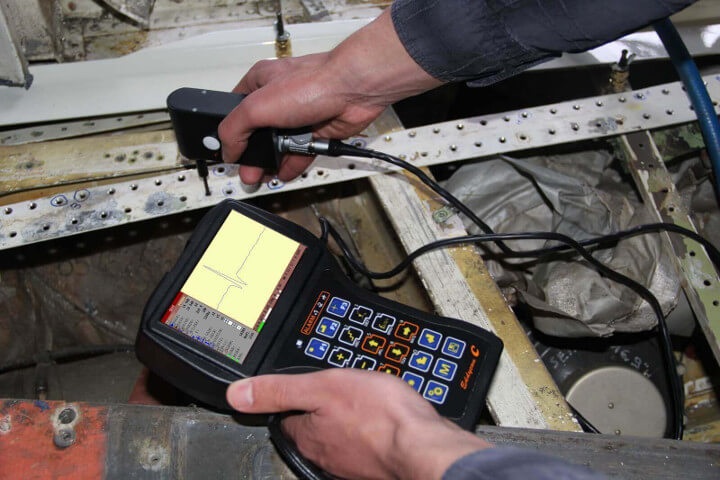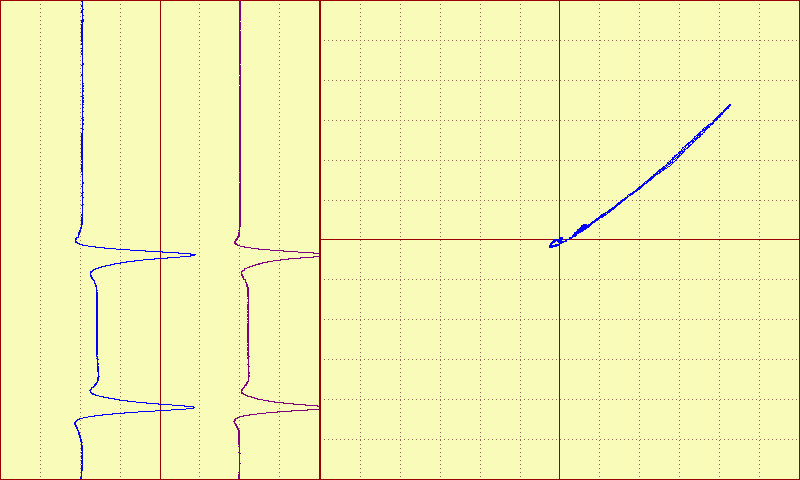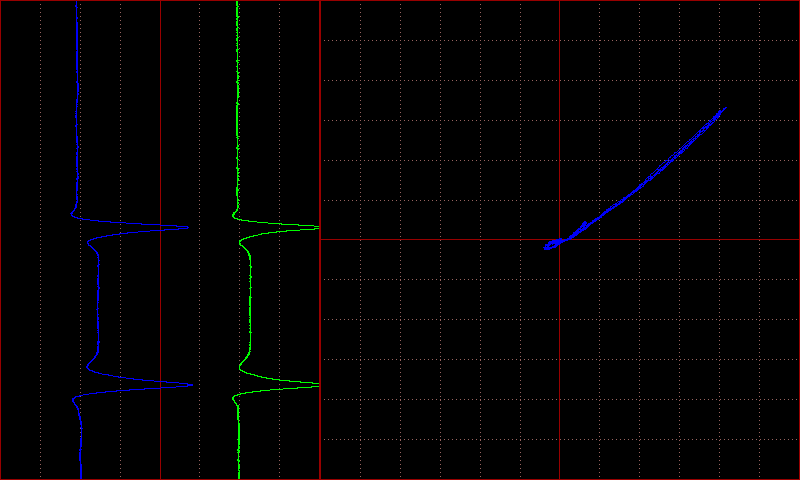 Display
4.3" TFT color display with 800×480 pixels resolution ensures a high-definition picture on the screen. The screen has several display modes, such as light, dark, standard
Request a quote
Download Spec Sheet
---